Dryer Vent Cleaning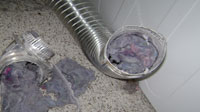 Our technique cleans your entire dryer vent system twice – once from the outside and once from the inside – so you can be sure the job has been done right.  According to dryer manufacturers, your dryer vent must be producing about 96 cubic feet of air per minute at a velocity of 1100 feet per minute in order for your dryer to be operating efficiently and safely.  We test your system using a sophisticated thermo-anemometer to be sure that you are getting the proper air velocity and volume at the vent cap. When dryers take longer than one cycle to dry clothes, the amount of wasted energy can be substantial. This results in using two times, three times, or four times more energy than is needed to dry clothes.
Dryer Vent Texas.
Many people are well aware of the fire risk of a chimney; however did you know that more fires are caused each year by your dryer vent? Over 7,500 people in the US alone were injured last year due to dryer vent fires. Many people think it is just their dryer "getting old" when it takes several cycles to dry their clothes or the clothes feels hotter than normal when they are removed from the dryer, however these are red flag signs of a clogged vent.
Any carpet will last longer when abrasive particles are removed regularly. Our cleaning system removes more than the dirt and other particles that cause your carpet to wear. Our cleaning system will also eliminate many of the disease-causing organisms that thrive in your carpet. Most carpet cleaning services specialize in more than just cleaning carpets, adding upholstery cleaning, tile cleaning and more to their resume. The best services, like US Clean Master, are the ones that can do it all from cleaning the inside of your car to the air ducts in your home as well as, of course, your carpet.